In the golden autumn of September, we ushered in a major event in hebei's foreign trade industry

The golden autumn is bright and the sky is high. The China (Cangzhou) Hardware and Building Materials Export Digital Exhibition hosted by the Cangzhou Municipal Bureau of Commerce and undertaken by Hebei Aide Exhibition Service Co., Ltd. and the Middle East International Exhibition Group opened in Cangzhou on the afternoon of September 15.
Cangzhou Municipal People's Government Deputy Mayor Zhan Peng, Cangzhou Municipal Bureau of Commerce Party Secretary Sun Shouchang, Director Wang Xiaoling, Deputy Director Sun Weidong, Cangzhou City Finance Bureau, Taxation Bureau, Customs, People's Bank of China Cangzhou City Center Branch, CITIC Insurance Hebei Branch, Cangzhou A total of more than 60 people from the main counties, cities, and districts of commerce and exhibitors attended the opening ceremony. In addition, on the Internet cloud, thousands of miles away, there were more than 200 people from overseas organizations such as Dubai City Hall, Dubai Government South Development Zone, Eastern Africa Chamber of Commerce, Kenya Chamber of Commerce and Industry and other overseas organizations, and purchasers from various countries participated in the opening ceremony online. According to incomplete statistics, more than 10,000 people watched the opening ceremony through online live broadcast.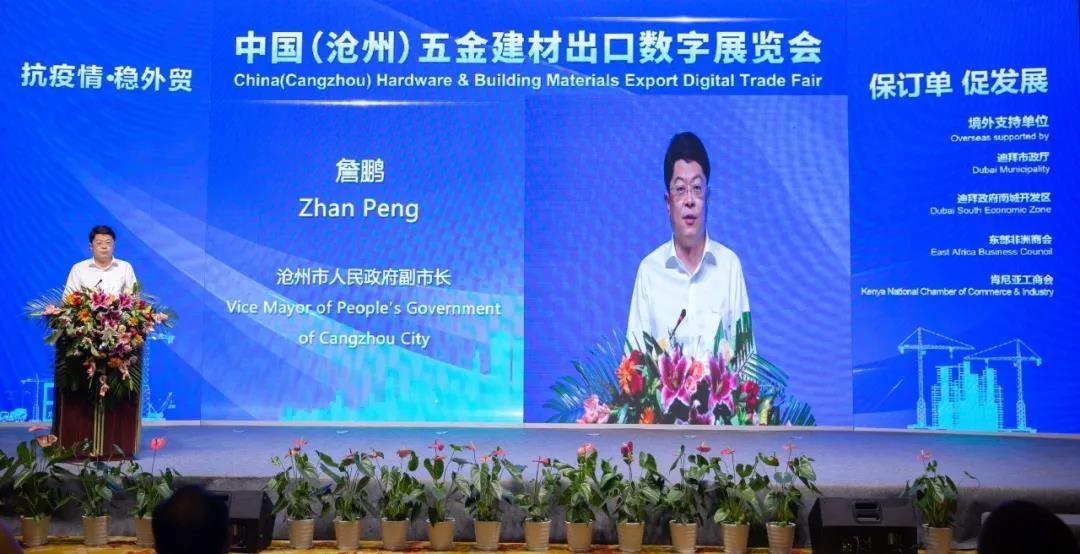 Deputy Mayor Zhan Peng gave a speech first. He said that in order to help Cangzhou foreign trade enterprises to maintain the market, stabilize their operations, and overcome difficulties, this digital exhibition is specially held to build a communication and docking platform for enterprises to carry out international economic and trade cooperation, and use practical actions to promote international economic and trade. Exchange and cooperation. It is hoped that through the model of government establishment and enterprise singing, the hard core strength of Cangzhou's hardware and building materials products can be demonstrated, and foreign trade companies can continue to receive orders online and continuously cultivate Cangzhou's new advantages in foreign trade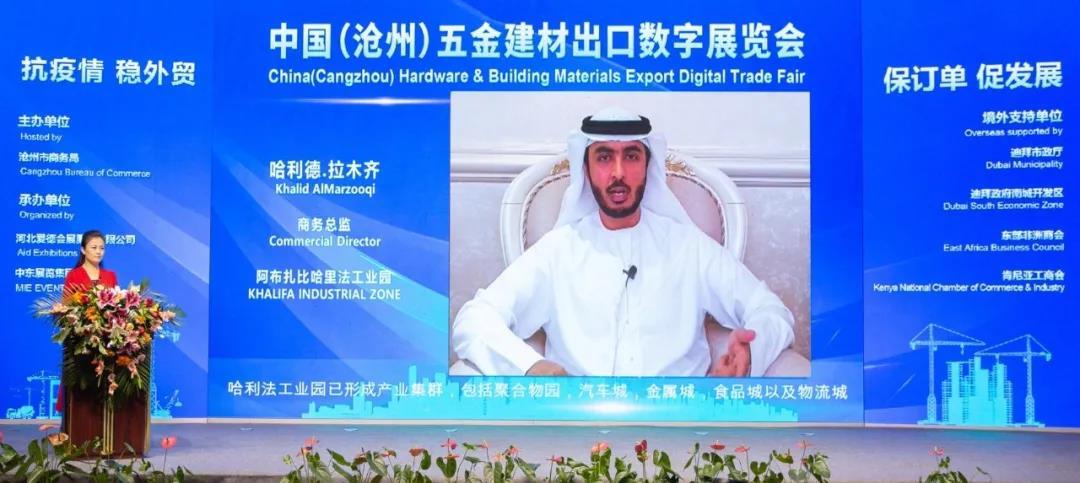 Mr. Khalid Ramqi, Commercial Director of Khalifa Industrial Park in Abu Dhabi, UAE, and Mr. Jacob Wanyok Mwan, President of Kenya Construction Industry Association, delivered speeches on behalf of buyers from the Middle East and Africa. They said that Cangzhou Hardware Building Materials The company has abundant resources, especially the foreign trade industry clusters represented by Mengcun, Yanshan pipeline equipment, Huanghua, Nanpi hardware products, Renqiu auto and motorcycle accessories, Botou casting products, etc., through this digital exhibition online precision Matching and purchasing will organize relevant buyers to purchase products made in Cangzhou with confidence, and create more Belt and Road cooperation.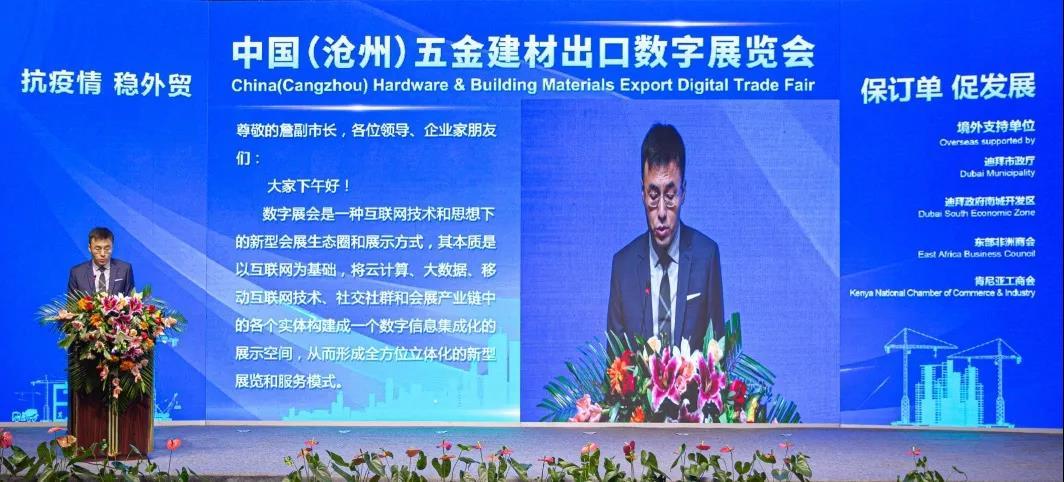 The organizer of this exhibition, Mr. Yang Xiaofei, general manager of Hebei Aide Exhibition Service Co., Ltd., said in a speech that as one of the organizers of this exhibition, Aide Exhibition will give full play to its own advantages and actively provide comprehensive services to foreign trade enterprises in Cangzhou. In addition to international exhibitions, it will also build a large platform for Cangzhou enterprises in corporate training, talent recruitment, social networking, etc., to promote Cangzhou's opening up to the outside world to a higher level.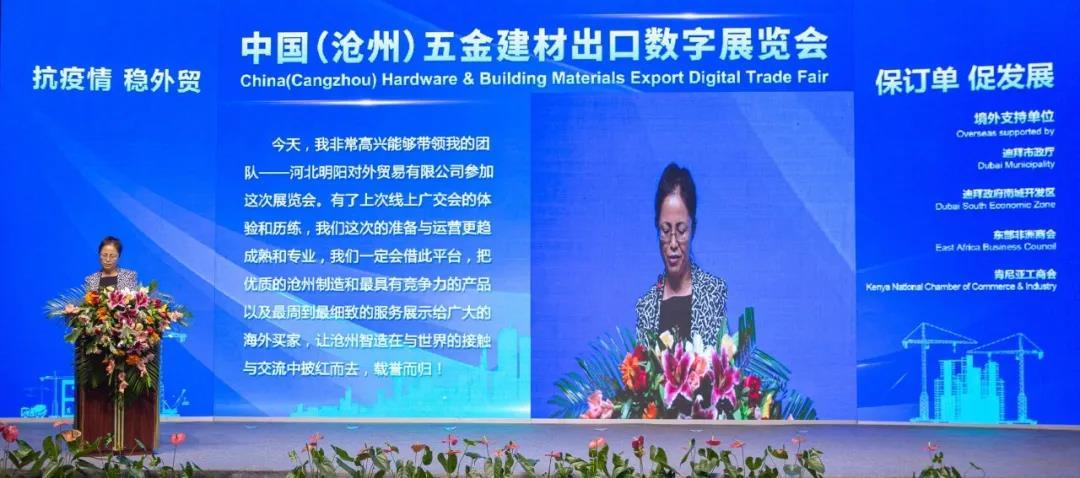 Ms. Xing Qingfang, general manager of Hebei Mingyang Import and Export Trading Co., Ltd., the representative of the exhibitors, said that they have made serious preparations for this exhibition after summarizing the preparations for this year's online Canton Fair. Combine them to expand wider marketing channels.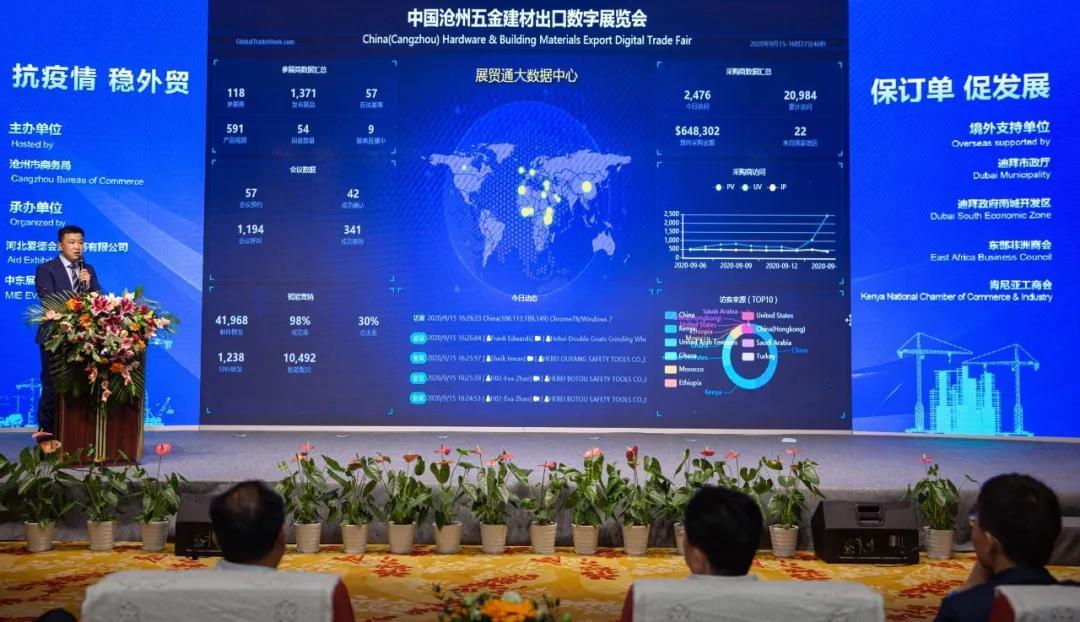 Mr. Wang Yaning, Deputy General Manager of Hebei Aide Exhibition Service Co., Ltd. explained in detail the functions of the digital exhibition platform and the participation of Cangzhou enterprises.
It is understood that the centralized exhibition period of the hardware and building materials export digital exhibition is from September 15 to 19, a period of 5 days. More than 110 hardware and building materials foreign trade companies from Cangzhou City participated in the exhibition, and more than 1370 products were on display and sold online, involving hardware More than 10 categories of commodities such as tools, building materials, construction machinery, wire mesh, decorative materials, and sanitary products. In addition, representatives of governments, social organizations, business associations, retailers, distributors, and traders from the Middle East and Africa participated. Among them, the number of buyers reached 700,000.
During the exhibition, exhibitors can promote their products by uploading promotional videos, product photos, VR virtual booths, and webcasts. The exhibition organizer will organize exhibitors and buyers to hold multiple matching procurement matches. Buyers and suppliers can use the online virtual meeting room function to conduct online communication and negotiation to facilitate the conclusion of the transaction. After the conference, there will still be a 6-month online display period for exhibitors and product promotional materials, and buyers can communicate with exhibitors at any time.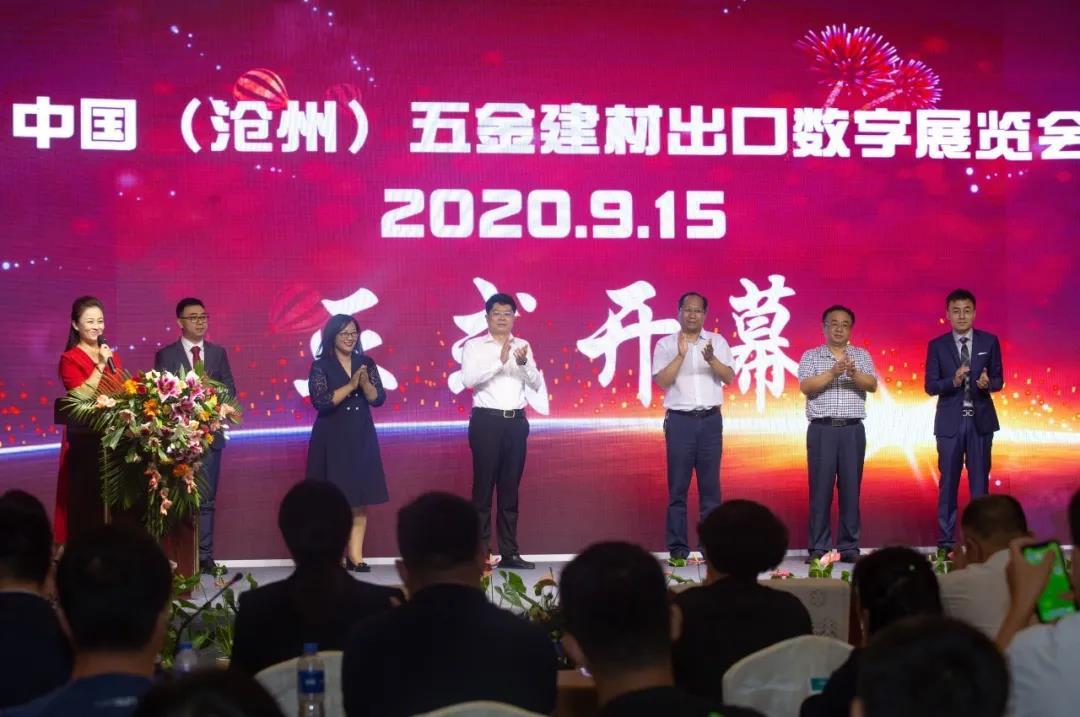 The China (Cangzhou) Hardware and Building Materials Export Digital Exhibition has built a more professional exchange platform for foreign trade companies in Cangzhou City, provided more opportunities for cooperation, and helped companies develop international markets and make positive contributions to stabilizing foreign trade.