Copper, iron ore prices drop as Chinese imports plunge
The price of copper dropped close to its 2018 lows and iron ore prices plunged on Thursday after customs data showed imports of raw materials by China weakening sharply in February.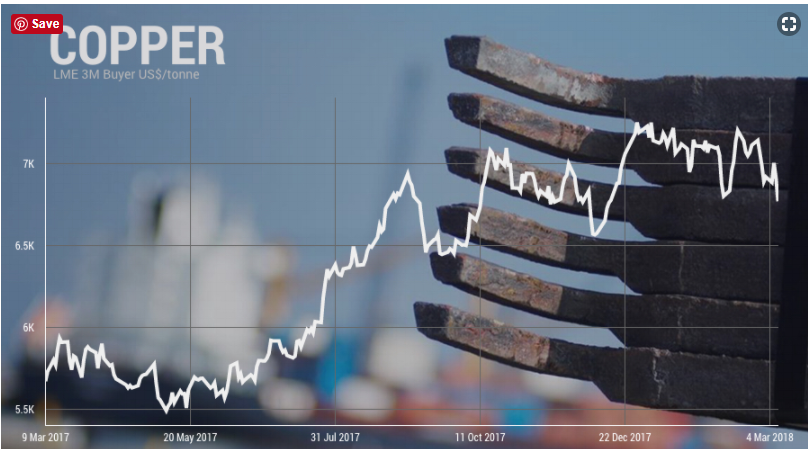 In brisk trading New York Comex copper for delivery in May gave up over 2% compared to Wednesday settlement price trading at $3.07 a pound ($6,770 per tonne). Copper is down 7% year to date.
China's copper concentrate imports are on track to top the record levels of 2017
February customs data from China showed import volumes of unwrought copper falling for the third month in a row and down 20% from January's shipments totalling 352,000 tonnes. The slowdown in imports have coincided with a 70% jump in copper inventories in Shanghai since end-2017. Last year's annual total came in at 4.7m tonnes, down 5.7% from 2016.
The market for copper concentrate is looking healthier. Concentrate cargoes landing at Chinese ports also slumped, falling more than 10% from January to total 1.45m tonnes in January. But the total for the first two months puts China's copper concentrate imports on track to top the record levels of 2017 of 17.3m tonnes, boosted by a ban on scrap imports.
China's iron ore imports declined in February despite the imminent restart of steel mills that were idled during the winter months as part of a government drive against pollution.
Imports of high-grade iron ore fines and lump ore from Australia, Brazil and South Africa fell 16% from January to 84.3m tonnes, but year to date cargoes are up more than 5% compared to January-February 2017.
Chinese port stockpiles expanded by 3.3 million tonnes to a record 159.1 million tonnes last week
Total shipments for 2017 topped record imports in 2016 of just over 1 billion tonnes.
The Steel Index benchmark price for Northern China 62% Fe ore fell 4% on Thursday to trade at $72.00 a tonne, giving up its gains for the year.
The strong imports have caused growing stockpiles at Chinese ports which reached new peaks last week. Holdings grew by 3.3 million tonnes to a record 159.1 million tonnes according to SteelHome data, sufficient to cover 54 days of imports.
Investment bank Barclays in a recent report warned that the unprecedented inventory levels could send benchmark prices falling back to $50 in the second quarter as Chinese mills switch back to lower-quality grades to preserve margins as rebar prices retreat.
The process is already underway with the discount between 62% and 58% Fe fines narrowing from 40% to 35% over the last sixty days according to CuSteel data. CuSteel's spot price for 58% Fe import fines was pegged at $45.11 a tonne on Thursday and 66% Fe concentrate at $97.39.
China consumes more than two-thirds of the seaborne iron ore market and produces as much steel as the rest of the world combined.