Rystad: Global oil field services layoffs at 300,000, but tide is turning
About 35% of the total workforce of the world's top 50 oil field services companies was laid off during 2014-16, research from oil and gas consulting service Rystad Energy shows. That amounts to around 300,000 employees.
The firm notes the North American shale industry in particular took a hard hit with the lower activity levels. Two of the largest land drillers, Nabors Industries Ltd. and Helmerich & Payne Inc., have announced several staff cuts resulting in an overall reduction of more than 50%. The Big Four, all exposed to the US land market, were forced to lay off between 30-40% of their workforce. Companies exposed to more of the international market have cut more modestly in the range of 20-30%."However, the negative trend is about to turn and over the last few months we have seen more job-postings in North America from companies such as Weatherford, Nabors, and Precision Drilling, among others," said Audun Martinsen, Rystad vice-president of oil field service research. "Last week, Halliburton announced its plan to add 2,000 jobs to the pressure pumping and cementing business."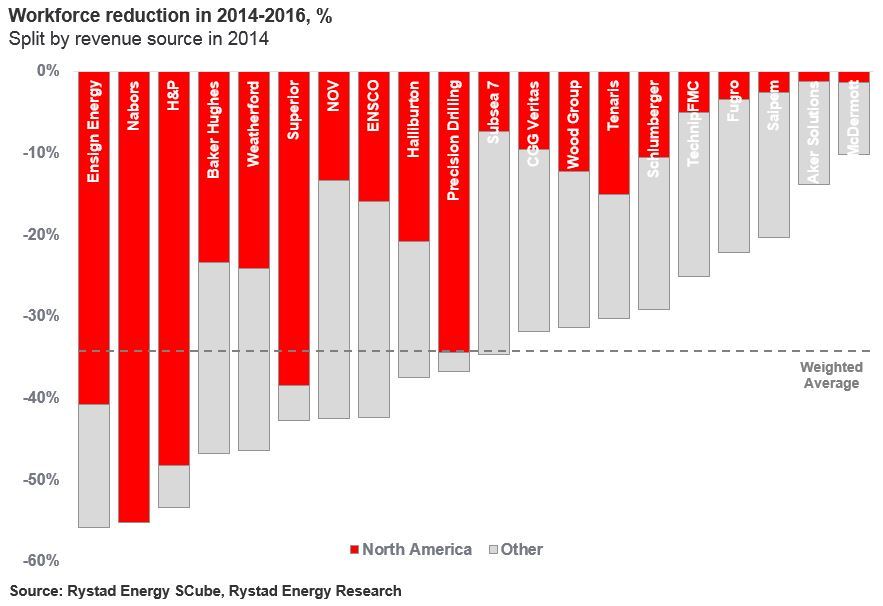 The offshore industry in general has been more resilient, but 2016 saw a larger step-up in downsizing. FMC Technologies Inc. reduced its staff by 1,000 to cut costs ahead of its merger with Technip SA, and, in October 2016, Saipem SPA said it would cut 800 jobs in Europe.
Recruitment is expected to increase once exploration and production spending increases. Rystad expects shale focused operators to increase their spending by 30% in 2017, while offshore spending will grow beginning in 2018 as more final investment decisions are made.
"With more projects offshore being revived in 2017, we expect the offshore layoffs to stabilize and start to increase later in 2017," said Martinsen. "Already we see this trend in Norway and it is only a question of time before it starts elsewhere. The race for the best hands and brains has started in the industry and the companies that have laid off people in a responsible manner are likely to have a competitive edge going forward."
Oil,field,service,ESP,cable